Lullymore, 2011
The purpose of the field outing was to observe some of the changes that have taken place on the Bog of Allen.
Our first stop was at The Irish Peatland Conservation Council's boardwalk at Lullymore where we viewed a small intact raised bog.    We discussed the formation process of raised bogs and the flora and fauna that are found there. The subject of the disappearance of the Red Grouse and the possibility of their re-introduction to bog areas also arose.   A sample of Bog Butter was examined and an interesting discussion followed as to the reasons why butter was placed in the bog hundreds of years ago.  Numerous reasons were put forward such as to preserve it until a time of need, to keep large quantities away from the eyes of the Landlord or Sheriff.  This practice was also used as a means of taking away or cleansing the bad luck from a house after a death.
We then proceed to three areas of post industrial peat extraction.
Firstly we viewed a grassland farm.   This area is flourishing where once there was eight to ten metres of raised bog.  A number of years ago the area was part of the An Foras Taluntais Peatland Research Station at Lullymore.  Weather recording formed part of that research and in 1972 a temperature reading of -18.8C was recorded on this site.   This was the lowest temperature reading recorded anywhere in Ireland for the 20th Century.
Next, a short distance away we came to an area of wild bogland meadows and birch/willow woodland.  This cut-away has colonised with vegetation in a short time.   A few years ago a colony of the very rare Marsh Fritillary Butterfly was found here.  Since then the area has been monitored by a number of enthusiasts and lately the area has been designated a nature reserve and is managed by Butterfly Conservation Ireland in partnership with Bord na Mona, the owners of the site.   Due to the species rich nature of the flora on the site, upwards of twenty species of butterfly and over one hundred and fifty species of moth have been recorded here.
Our final area of observation was a recently developed wetland that has flooded naturally.  At the time of our visit the abundance of Bog Cotton gave a very picturesque view.  The area is now home to mute and whooper swan, duck, curlew, grey heron, golden plover and lapwing.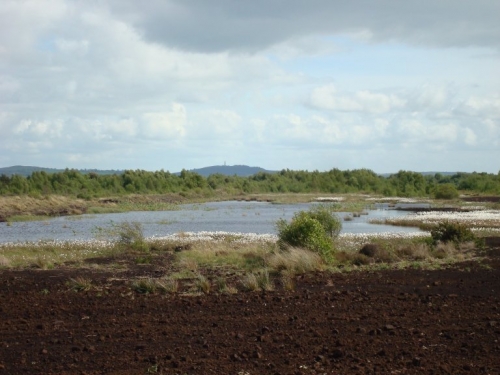 The above three areas gave some insight as to how cutaway bog may develop in the future
The group then retired to Lullymore Heritage Centre for light refreshments and to reflect on the proceedings.
Our thanks to Irish Peatland Conservation Council, Mr. Philip Doyle, Bord na Mona, Butterfly Conservation Ireland and Lullymore Heritage Park.
Michael Jacob